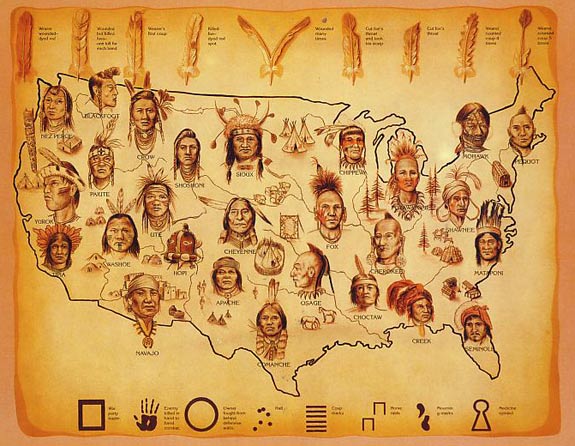 This past Friday it dawned on me: The upcoming Monday is the traditional Columbus Day holiday. I had completely forgotten for two reasons: 1. we don't follow the same schedule as area public schools and 2. well…now that I am older and wiser, I have the sense to research history and make my own conclusions. As such, we will not spend tomorrow acknowledging Columbus' alleged discovery of America. Why? Quite simple. Yes, he discovered America in the sense that it was previously unknown to him and the Spanish monarchy; however, the people who inhabited America already knew of its existence. What Columbus actually did was claim the land for Spain; that fact and its consequences are often overlooked in school textbooks and discussions.
In lieu of partaking in traditional celebrations tomorrow, we will spend the week learning more about Native American/Indians and their culture. Our library is full of resources, but it would be impossible to read/view them all in the span of a week. So here's what we'll start with (I am sure the girls will then further their study based on what interests them):
Aztecs (Green, Jen)
A Boy Named Beckoning: The True Story of Dr. Carlos Montezuma (Capaldi, Gina)
Georgia's First People (Ward, Jill)
A Kid's Guide to Native American History (Dennis, Yvonne Wakim)
The Navajo (Cunningham, Kevin)
Pow Wow: A Native American Gathering (DVD)
Giving Thanks: A Native American Good Morning Message (Swamp, Jake)
Red Bird Sings: The Story of Zitkala-Sa, Native American Author, Musician, and Activist (Capaldi, Gina & Pearce, Q.L.)
And I picked-up a selection especially for me. I was first introduced to Sherman Alexie's work in undergrad and I have been a fan ever since. My all-time favorite Alexie book is Reservation Blues; this go-round, I will be reading War Dances, in addition to the above-referenced books.
If you weren't able to incorporate Hispanic Heritage Month into your homeschool curriculum, now would be a great time to introduce your kids to both Hispanic and Native American culture. You would also have the opportunity to explain how the 'discovery' of America negatively impacted Native culture.
Whatever you choose to use for teaching about America's original inhabitants, happy discovery and learning on No Columbus Day!